Welcome to the first EBEG Giveaway. This competition is open to the public. EBEG Members may comment but are excluded from the draw. To win the earrings you need to  post a comment below by March 27th when the draw takes place. The prize is a beautiful pair of beaded earrings made and donated by our leader Carolyn Turner. Please see picture below.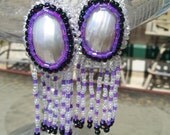 Native American made. Mother of Pearl oval bead embroidered dangle earrings. These are very light weight earrings!
Designed and Made by Carolyn Turner
Good Luck to all who enter.